This is a super easy and inexpensive project. It can also be used in many different ways and makes great gifts. Here is what you will need:
A Glass Object - I used beer mugs from the Dollar Store. I lucked up finding these, they are huge and heavy and would sell for much, much more anywhere else.
Repositionable Contact Paper
Letter Stickers
Ruler
Cutting Mat
Exacto Knife
Armor Etch etching cream
Decide where you want your text positioned and cut your contact paper to the measurement you need. It's pretty easy as the paper has 1/2 inch scores on it which helps.
Next position your contact paper on the item, then place your lettering. I have found it is easiest if you begin in the middle and work your way out from either side. Make sure all the edges are pressed down securely, this will help prevent any of the etching cream from seeping under and messing up your lines. I ended up using a little painters tape on the corners where one side was cut just a bit more than the other.
Next you will apply the etching cream. I have seen this done several ways, but I just use a cheap 1/2" natural bristle brush. Be very careful not to get any of this on your skin. It's not paint, but chemicals that react with the glass, and can do real damage to your skin.
Brush on a good coating. The thicker it is the better it will cover, but don't overdo it. The etching cream can be expensive, so you don't want to waste any.
Once the cream is on, let it set for 5 minutes.
After the five minutes is up you simply rinse it off with water. Again, don't use your hands. I usually use the paint brush I used to put on the cream to help make sure all the cream is rinsed off.
Sometimes you will get a small spot that for one reason or another just didn't take. Just wipe on a little bit more etching cream and let it set for another five minutes and rinse again. This will usually work.
Then you take off all the stickers and contact paper, clean and dry your item, and you are ready to go. The etching is permanent, heat proof, dishwasher safe and food safe.
There are so many different things you can do with this. I have so many projects running through my head right now! I have a cousin getting married next month, so I think my next project will be an etched glass baking dish to give as a present. Then there are the hurricane candle holders I want to do for Christmas gifts, and maybe some Christmas ornaments. . . Hope you are all ready for more projects. More to come soon!
Have a great day!
P.S. - Sorry about the crappy pics, I tend to do most projects at night, and I hate using the flash. Something else for me to work on!
Linking up with:
Fireflies and Jellybeans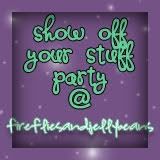 House of Hepworths
Fine Craft Guild